A
A
World Wetlands Day 2007
Flagstaff, Arizona, USA

"Fish for Today!
Fish for Tomorrow?"
Free environmental education activities and exhibits celebrating our connection with the Sea.

Willow Bend
Environmental Education Center
Saturday, February 3, 2007
A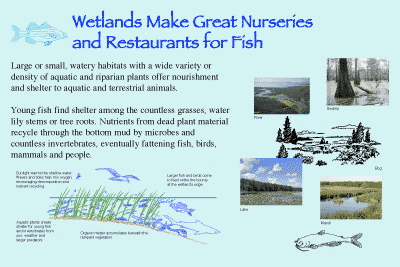 We designed these three posters for the event to interpret the importance of coastal wetlands for much of our food fisheries.
Zack guided vistors, some home schooled children, through each of the posters and answered questions.

Adults also took copies of Ramsar's "Fish for Tomorrow" booklets.
A large wall map oriented visitors to the entire Colorado River watershed from the Rocky Mts. to the Sea of Cortez.

A very informative poster "Conservation Priorities in the Colorado River Delta" (www.sonoran.org) also enhanced visitors' understanding.
Thanks to the following organizations for materials and information about wetlands and the Colorado River:
Ramsar Convention on Wetlands, Switzerland

Arizona Game & Fish Dept., Flagstaff, Arizona

Arizona Game & Fish Dept., Yuma, Arizona

Reserva de la Biosfera Alto Golfo de California y Delta del Rio Colorado, Sonora, Mexico

US Fish & Wildlife Service, Tucson, Arizona

US Fish & Wildlife Service, Washington, DC