Interpretive Sign Design and Wildlife Illustration

Life Drawing specializes in wildlife, botanical and historic themed signage. For a quote or to discuss the signage you need, contact us at
928-774-4229
wildlife@lifedraw.com
To preview samples of signage and scientific illustration, see our professional design services, and review satisfied clients we've served ...
... click here.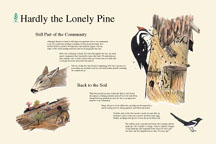 Clip Art of North American Wildlife
For non-commercial, non-sale use.
Newsletters, flyers and signs look inviting when you have images of wildlife your site protects. Here you will find over 1000 black & white, line art of identifiable wildlife, trees, flowers species of North America. I have 29 bio-regional CDs available now - each including 50-60 clips of common and unique species.

Retail CD's cost $200 USA each. For $8 per clip, you can pick & choose just the individual species clips you want for a custom CD collection.

Preview & Purchase Wildlife Clip Art and full CDs, click here.
Zack's Stock Art of North American Wildlife
For use in commercial, for-sale products
Business and Publishers: Do you need animal or plant sketches for use in for-sale products and services, or for business promotional uses? I have over 1000 images - b&w bitmap 600 dpi TIFFs - that can be used in books, graphic services, novelty items, business cards, and so much more! One even was used for a tattoo!
To view all 1000+ species and place your order, go here...
Call to discuss custom illustrations and rates.