Wildlife Signs for Ski Lift Towers
and Cross-country Ski Trails

You are already promoting Nature to your skiers! They flock to your slopes and trails to get out in beautiful scenery. Why not tell your visitors more about the Nature around them!
Install easy to read signage for your skiers on lift towers or trails to initiate awareness and a satisfying personal connection with local wildlife. When they later see fresh tracks in the snow, a chickadee or spruce cones in the tree tops, your visitors will appreciate your assistance in pointing things out to them.

Make looking for and enjoying winter wildlife part of your skiers experience. Perhaps your local Forest Service or neighboring conservation groups will partner with you to reach more people.

Monarch Mountain and Ski Cooper in Colorado installed dozens of my wildlife signs on chair lift towers for visitor enjoyment. How about yours next!

How to get Life Drawing Wildlife Signs at your ski area?
That's easy! Here's how....

1. Preview available Wildlife Panels and species, click here.

2. Decide what signs you'd like, which tracks and animals, birds, trees or even summer wildlife and flowers. Don't know which ones? I can help you before you order. New species? Of course you can request species I don't have yet! I'd be happy to paint them!

3. Your costs for 15 x 20" or 18 x 24" color panel art are:
• $60/panel for the species in stock.
• $100/panel for new species I'll paint.

4. Fabrication of your panels - you have 3 options:

• You contract directly with ski equipment supplier, Inter-Mt., http://www.inter-mtn.com. They made the panels for Monarch Mountain in 2011. They look great! Fabrication includes includes makeing the panels, frames and most hardware, and the shipment. This amount can vary due to the number of panels, printing set up fees and crating for shipping. For Inter-Mtn costs, click here.

• Or you contract with me to manage fabrication for you. My service charge is $250 in addition to Inter Mt.'s fabriction costs, see above.

• Or you plan on taking the files to the fabricator of your choice.

5. Be ready to email me a high resolution graphic file of your logo (and logos of any partners).

6. Contact me to set up your order and get scheduling & payment details. I can invoice you for your payments or run them on your credit card.

Any other costs?

If you want to mount the signs on posts, kiosks or trees, you may need to consider the hardware needed. I can give you some free information and suggestions on pedestals. Your maintanance staff or local iron worker may also help.

How much time is involved?

Last year, I began Monarch Mountain's sign design in September and the panels were delivered in November. So plan on 8 weeks. But this can also depend on the fabricator's work schedule. If you are just ordering the design files, plan on 4 weeks.

Thanks! I hope to hear from you soon - or see you on the slopes!

Zackery Zdinak
Life Drawing & Education
PO Box 1314
Flagstaff, Arizona 86002-1314
USA
928-774-4229
wildlife@lifedraw.com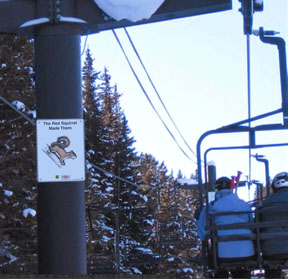 Skiers learn about local forest wildlife, tracks and trees as they ride the lifts Ski Cooper near Leadville, Colorado.